One of the great finds today in my feeds was this post on the Google Earth blog discussing Wikiloc.
Wikiloc is a free wiki that allows you to upload your GPS traces to their site as GPX files. You then get detailed statistics on your trail complete with map and aerial photo overlay.
As a confirmed GPS addict I couldn't resist, especially as I strap my Garmin Etrex to the helmet I wear whilst boarding. This way I can gather a whole days activity and then upload the days tracks to my PC using memory map. Here is my favourite day from my apartment in Les Gets displayed. Fresh powder empty pistes bright sunshine – one day out of 30 🙂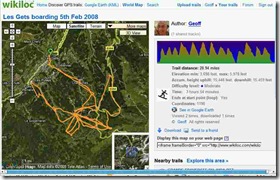 Clicking on the image takes you to my page on the wikiloc site.
As you can read I travelled 29miles with a total descent of 15,446 feet in just under 4 hours (from memory map I know my peak speed was 55kph.
Pretty neat application except that wordpress seems to have a bug that doesn't allow me to post iframe links that wikiloc gives you 🙁
Apart from that an excellent application for my long walks.