After receiving a 10,000 word missive from some anonymous plonker with no name I have now turned off anonymous comments.
Especially for the plonker and maybe other more enlightened readers who may not know me. I can offer the following:-
After visiting the oldest museum in Cambridge The Sedgewick, yesterday I am a reaffirmed total atheist. Anyone who can see the diversity of life 250 million years ago and still have anything to do with Noahs Ark is beyond me and basically bodes ill for the human race.
After also visiting the University of Cambridge Museum of Archaeology and Anthropology
yesterday I remain a firm believer in the equality of all race's. As anyone would be after seeing the Aboriginal artifacts at the museum, any tribes that can survive for some 30,000 years in such inhospitable conditions is just incredible – Our oil economy is only 100 years old and we are easily past the halfway point in supply. See this staggeringly well researched article on The Oil Drum
Especially this chart in the comments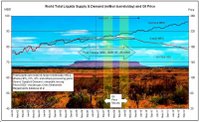 from http://i129.photobucket.com/albums/p237/1ace11/plateau3.jpg
Thats enough for now. Can't cope much longer using Blogger!