Continuing my grand 3000 mile E2 walk. I'm now connecting up the bits I've walked this year (Pennine Way (250m), Alpine GR5 (350mile), Fen Rivers Way (50m)). So on Wednesday with my new found walking companion, Sally_from Norfolk, we walked from Kings Lynn to Wisbech along The Nene Valley Way.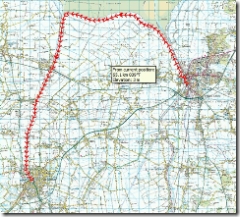 A great day, with the excellent start in a charming tiny ferry across The Ouse owned by a husband and wife team – it is in fact part of the public highway, started in 1200).
Then a walk along the windy sea defences around The Wash, at times smelly, firstly from Kings Lynn sewage works (come on boys and Burack – clean up your act) then by a team of squaddies doing nefarious activities on the small island off Walkers Marsh who had liberally splashed diesel all over the footpath. Then its straight up The Nene and yes it is straight. Past hamlets with delightful names such as Foul Anchor and into Wisbech.
A good walk,
Sally's first over 20 in a day,in fact 21.9 miles in 6hr 22min walking plus 33min of stops. Here is Sally taking a very short stop on one of the Nene Valley's stiles. Flattest profile to date as well. Notice the zero bit at the start, when we were on the ferry
.