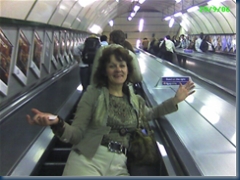 Here is Ellee on her way up in the Conservative blogging community after visiting some of her Conservative blogging friends in London last Friday see her post.
I went along as the minder and taker of the official photo. For me as an attendee at numerous tech blogging events in the past it was a bit strange.
Firstly, well these guys are Conservatives, whereas the previous folks I've met at events like Reboot are liberal types. eg Doc Searls and in fact the whole concept of blogging to me is liberal anti big business and media moguls.
Secondly, the deference shown to Iain Dale when he arrived. Never seen that before which was kinda weird. Kind of 'A' lister stuff Which Scoble(and Robert your blog sure doesn't suck!), Winer and the other old timers object so strongly too.
But all in all it was a very good evening and Ellee sure enjoyed herself and come the next election here in the UK I'm sure her ratings will rocket too. Certainly my star blogging pupil by a long long way.