I have now finished the first walk designed by myself, although obviously others have trod a similar path in the past to get to the University of Cambridge 🙂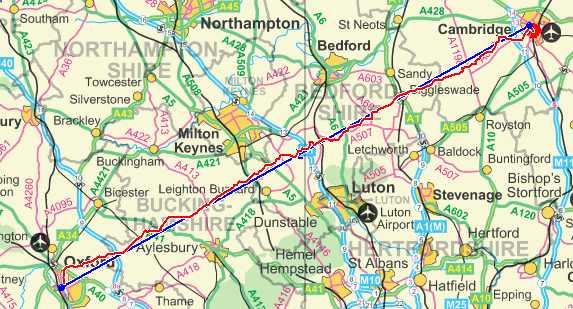 My requirements were to walk from Cambridge to Oxford keeping as straight a line as possible and avoiding all roads.
Once I started mapping using Memory Map, it became obvious that this is simply a walk through what everyone imagines England as it used to be. Rolling green countryside abundant Oaks, Beech Foxes and wildlife plus some of the most unspoilt villages in the country. An added bonus are the great houses at Wimpole Hall, Woburn Abbey and Waddesdon Manor. During the walk I also discovered that it goes through some of our finest nature reserves from the miniscule Paradise in Cambridge to the immense Stockgrove CountryPark and the Green Sand Trust to, who have thought, the two moors at Flitwick Nature reserve!.

Cambridge to Oxford Walk – Widget powered by EveryTrail: GPS Geotagging
The Route takes in small parts of The Clopton Way, The Skylark Ride, The Navigators Way, The Bunyan Trail (amusingly sponsored by Scholl shoes 🙂 ), Greensand Ridge Walk, Two Moors Heritage Trail, Seven Parishes Millenium Circular walk, Woburn walk, Stockgrove Country Park Circular Walk, Bucks Circular Walk, Cross Bucks Way, Matthews Way Village Link, North Bucks Way, Bernwood Jubilee Way, Oxfordshire Way & the CPRE Oxford Green Belt Way.
Plus the famous windmills at Brill (Loved the company name Brill Computers!), Quainton and also Stukeley famous for its authentic Norman church, longest village high street and London's proposed third airport 40 years ago (the walk crosses the proposed main runway)
All the photographs are up on Picasa and Flickr (I'm at the point of leaving Flickr like its founders) and also maps can be found at Wikiloc, Everytrail and Google Maps (Nope I can't decide which is best either).
Apparently Cicerone published a book in 1995 by James A. Lyons called "An Oxbridge Walk" now out of print but readily available.
Others ideas are to get Green King interested in offering free beers (their Loch Fyne chain is in Cambridge, Woburn and Oxford and also they have recently taken out the main Oxford brewers. I have a novel idea how they may do this to everyones benefit 🙂
Oh the coolest thing of all, for anyone over 60 who lives in England its free travel between Oxford and Cambridge on the Stagecoach X5 with buses every 30minutes, both ways, through the day. The bus is never more than 8 miles from the walk! What other walk anywhere in the world can offer that!
Many thanks to Sally and Ellee for their blog posts on this too 🙂
Powered by ScribeFire.
Update:  30-06-2008:
Change the paragraph relating to "An Oxbridge walk"
Wikiloc now has had 62 views 9 downloads, Everytrail 81 views, Google 0 views