Another day another new iPhone application. Today it was EveryTrail.
In the past I used my Garmin Etrex as a GPS and a regular camera, by fiddling with LoadMyTracks, HoudahGeo and Flickr I managed to upload my walks to Everytrail. Today it all changed 🙂
Here is my test walk around Cambridge with the iPhone:-


Widget powered by EveryTrail: GPS Geotagging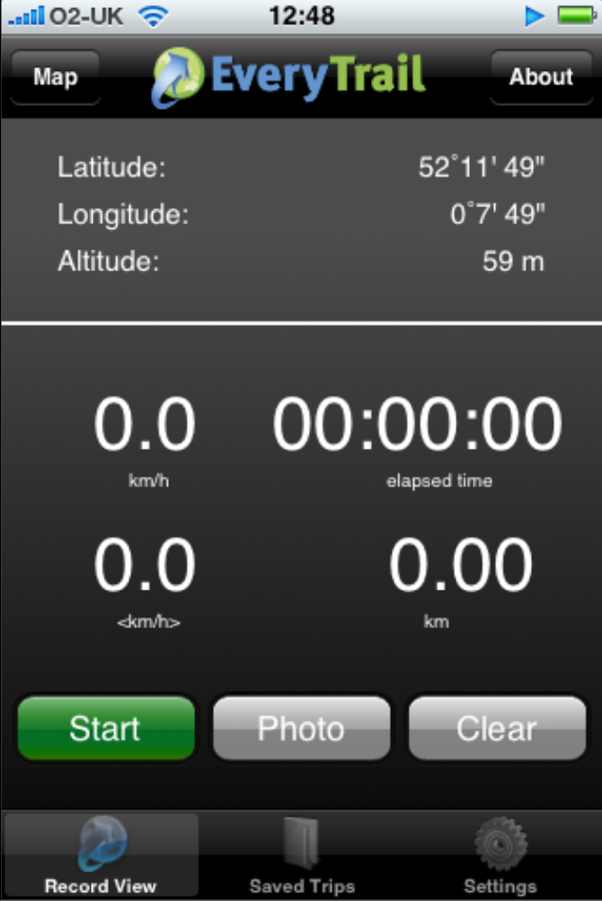 On the iPhone the application looks like this, very intuitive to use, give it your login name ad password then just walk and take pictures. It isn't using the cell networks or WiFi so these can be switched off. I didn't and the iPhone battery was dead in about 2 hours 🙁
Battery life is a real issue with all these new applications, it means its a playphone rather than a real tool for saying doing day long hikes.
Other than that its a great little application – the log was uploaded over WiFi in a few minutes at home.
It could be improved by having the screen shut off and some positive indication that it is locked to the satellites, maybe buzz if it loses the GPS signal. A screen showing satellite positions and strengths would be cool too. I also noticed that it lost the Altitude data when transferring to Everytrail – not so bad in Cambridge but annoying on a mountain walk.
Apologies for poor image quality – obviously a sticky finger left some traces on the camera lens – a snag when you have to hold the phone for so long!
A good free application that is really only limited by the poor iPhone batteries and satellite receptio.
Powered by ScribeFire.