Solvitur Ambulando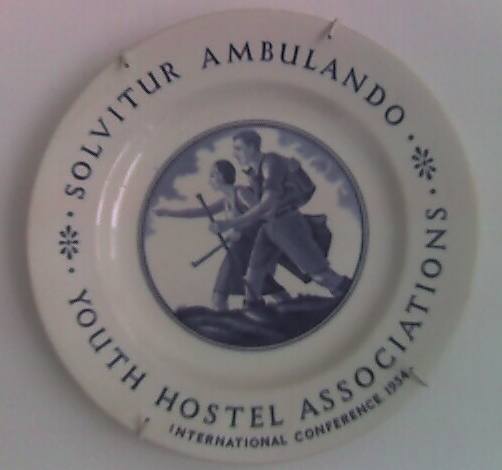 This Youth Hostel Association commemorative plate was my fathers, obtained from him visiting the International Conference held in England in 1934. My father was a very early member of the YHA (member number 1774 in 1932).
He and his mother also became wardens of Overton Hall Youth Hostel, Ashover, Derbyshire in 1934 where they hosted a dinner to the International delegates attending the 3rd conference on the 20th October 1934. A copy of the menu can be found here. It is signed by the delegates including the founder of the Youth Hostel movement Richard Schirrmann
Since my retirement from Cortex Controllers it is my intention to spend more time walking. I would really like to walk the E2 from Ireland to Nice. The E2 connects my birthplace to where I live now in Cambridge and my second home in Les Gets France, so is particularly appealing to me.
Geoff's long distance walks.
The Camino from SJPP to Finisterre and Muxia, 550 miles in 28 days
A Coast to Coast walk from St Bees to Robins Hood Bay, 190 miles in 7 days.
The Pennine Way from Edale to Kirk Yetholm, 270miles in 15days.
The GR5 Lake Geneva to Nice segment 356 miles in 23 days.
The GR20 from Calenzana to Conca in Corsica, 110miles in 14 days with Sally
The GR10 from Hendaye to Luchon in France, 220miles in 21 days.
The West Highland way, Glasgow to Fort William, 97 miles in 6 days. with Sally