Good news day.
Today French Telecom finally fixed my line in the Les Gets exchange. So after around 20 days, endless phone calls and employing the services of Bernard at
Kankoo Informatique
in Morzine to pester France Telecom into submission I now have a 1MB ADSL line working in the
apartment
.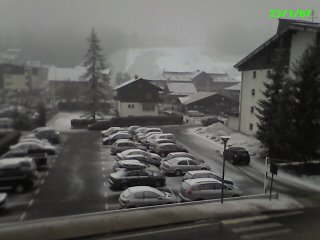 And more good news - the snow has finally arrived in Les Gets village after 3 weeks of rain. Here is the view from my balcony at 3.30pm today. Outside temperature is -1.1 so its looking good for tomorrow.
Cherie radio
should have more to report tomorrow although I now have
di.fm
to listen too.
Oh and Nick is getting married in
Gozo
at some point near my 60th birthday in July.