Boarding in Les Gets
The snow might be dreadful with only a handful of blue runs open but that doesn't stop me geeking out . Here is a map of where I went boarding this afternoon, made by strapping my GARMIN Etrex to my helmet and then importing the track log into my Memory Map.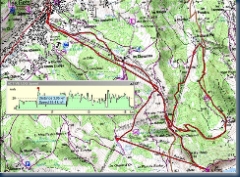 Overlaid is my speed profile with a red dot that shows exactly where my highest speed was obtained. An alternative graph is the elevation profile showing that I used 3 lifts.

Will be interesting to see what happens once we get some decent snow and the red and black runs open. Interestingly I had my first email request for a summer booking at my apartment today